"This novel is aces: Courageous, imaginative, nervy, admirable." — Carolyn See, Los Angeles Times
"Compelling. . . adventure with self-reflection and discovery." — Bloomsbury Review
"Files' riveting novel begins with a bang, literally and figuratively. . . Superb pacing maximizes the suspense, propelling the reader to discover exactly how Kit will resolve her memories and face an extraordinary future." — Publishers Weekly
Available from Permuted Press as an audiobook and an e-book.
"This book is wonderfully insightful into the writing process, particularly the fears that will hinder a writer, regardless of experience. . . Give this book to anyone you love who yearns to write. Keep a copy yourself." — Nancy E. Turner
The new, updated edition is Writing What You Know.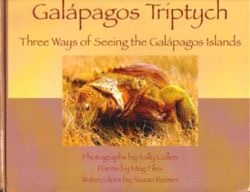 "Meg Files' poems are rich with Charles Darwin's observations, the tour guides' language, and her own thoughts and connections as she sees species unaware of humans and thinks about our place in the vaster world." — Sheila Bender
Photographs by Sally Cullen and paintings by Susan Reimer
"Lasting: Poems on Aging, deftly edited by Meg Files, is an encouraging collection of poetic interpretations and depictions of aging and the nearing of death. As a remarkable understanding of life and one's past, Lasting is an artistic review of many excellent poets' work, and is a uniquely engaging read." — Midwest Book Review
"Meg Files has given us, in The Third Law of Motion, a portrait of a marriage that is as searing and emblematic as Richard Yates' in Revolutionary Road. What emerges is a story where damaged men damage those they love, where parents look the other way, and where women provide hope and strength to one another. This is a moving, wise, and hopeful book." — Beth Alvarado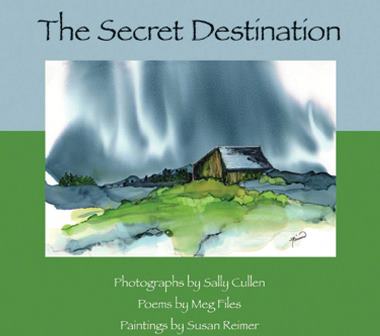 "Three sisters, off to see the world. . . 'to a secret destination that is both arrival and end' . . . Iceland. . . imagining their father's remains, his soul, ensconced in a glass case, beside Thor. . . and borne along by them, a relic beyond gravity. . . and they return, ensorcelled and bearing a gift for us. . . an Iceland of tern-moon and mythic Lights. . . consecrated in Susan Reimer's paintings, and Sally Cullen's photographs, and Meg Files' poems." — Ron Powers
$10
To order, email Meg Files (see "Contact" page)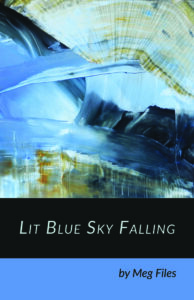 "In Lit Blue Sky Falling, Meg Files illuminates the origin and evolution of the complex connections among all living things. From the Galapagos to Iceland, she follows tracks and sagas to let us all comprehend how we are related—among species, within families, and as part of cherished friendships. These elegant, earthy poems reward each reading with insight, wisdom, and delicious language." — Peggy Shumaker
 Order at www.finishinglinepress.com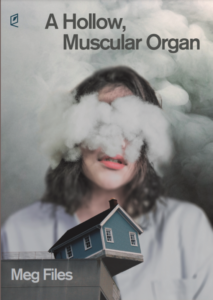 accents-publishing.com/hollowmuscularorgan.html

Story "The Urn" in Chiron Review, Fall 2021
Poem "The Beasts" in Global Poemic, May 2021
Creative nonfiction "Swimming in the Pandemic" in Love in the Time of COVID: A Chronicle of 2020, February 2021
Poem "Waveson" in Verse-Virtual, February 2021
Poem "Our Friends' Death Row Son Hangs Himself" in Spillway, Fall 2020 (and Pushcart Prize nomination)
Poem "Aurora Borealis" in Cloudbank 13
Poem "Sublunary" forthcoming in A Walk with Nature anthology
Poem "Bad Mammo" in Panoply, 2018
Story "Green River" in Little Patuxent Review, 2018
Poems "Independence Day" and "With My Father at JJ's Barber Shop" in Cloudbank, May 2018
Poem "Powdered Milk" in Miramar, Number 5, 2017
Poem "Penguin Parade" in Driftfish: A Zoomorphic Anthology, 2016